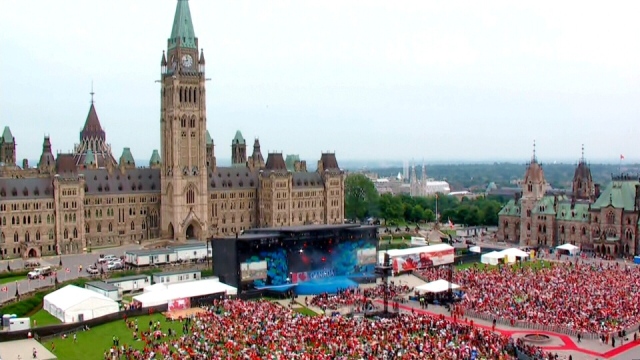 Want to see this year's Canada Day celebrations live and up close? Then get down to Parliament Hill bright and early.
That's the message public officials are sending as hundreds of thousands of people are expected to descend upon Ottawa for Canada's 150th birthday on July 1st.
"Plan ahead and plan early," said Mayor Jim Watson Friday afternoon at a press conference at Ottawa City Hall.
"There are going to be a lot of people in the downtown. You're going to have to go through a security screening to get onto the Hill. And obviously, with literally hundreds of thousands of people, that's going to take some time."
It's possible that Parliament Hill could even reach capacity on Canada Day, which is why large projection screens will be set up in the city's downtown, Ottawa police Chief Charles Bordeleau said at that same press conference. Security checkpoints will also be moved onto Wellington Street so that more people can fit on the Hill, Bordeleau said.
The police chief said officesr would be working in conjunction with the RCMP and the Department of Canadian Heritage to determine capacity levels, and there is "absolutely" a possibility people might be turned away.
"Be there early if you want a spot. There will be a number of television screens that'll be set out on different roads that people can view if they don't get a spot on the Hill," he said.
Different opinions
Among tourists visiting Parliament Hill Friday evening, reaction to the potential attendance cap was mixed.
"If you come for the celebration, and you're spending the time and money to come here, you need to know that [the Hill's] going to be available," said Toronto native Leo Grimaldi, who was taking photos near the Centennial Flame with his family.
Grimaldi said that while they were considering coming back to Ottawa for Canada Day, it would be a major disappointment if they ended up having to watch the celebration on a screen downtown.
"It's not going to be the same," he said. "I can stay home and watch it if that's the case."
But recent incidents like this month's deadly attack on London Bridge could mean capping the celebrations in the name of security might not be a bad thing, said Janet Carli-Allen, who was visiting from Saskatoon.
"I think honestly, given the climate right now, it's probably a smart thing ... just because of everything going on in the world," Carli-Allen said, as she waited in line for a ticket to tour the Parliament buildings.
"Security is probably the most important thing right now. So I'm okay with that."
Neither Ottawa police nor the Department of Canadian Heritage have said what capacity on Parliament Hill will be on Canada Day.
It's also not yet known how many projection screens will be installed in the downtown, or where exactly they'll go.
Source : cbc.ca
---
Leave a Comment!
---