You can request a refund if a show is cancelled or rescheduled, Ticketgateway organizers set their own refund policies. Before requesting a refund, first check the event listing to see if the event organizer set a refund policy. To request a refund, go to Tickets in your Ticketgateway account, find your order, then select "Request a Refund." Your organizer should respond within 1 week (2 business days if you paid using PayPal) and when issued, refunds can take up to 5 business days to show on your account within 10-15 Business days.
Steps to request a request a refund
1. Go to My Tickets
2. Click on View Order.

Once you click on request refund the small pop up will appear.
3. Fill out the contact form and select "Continue."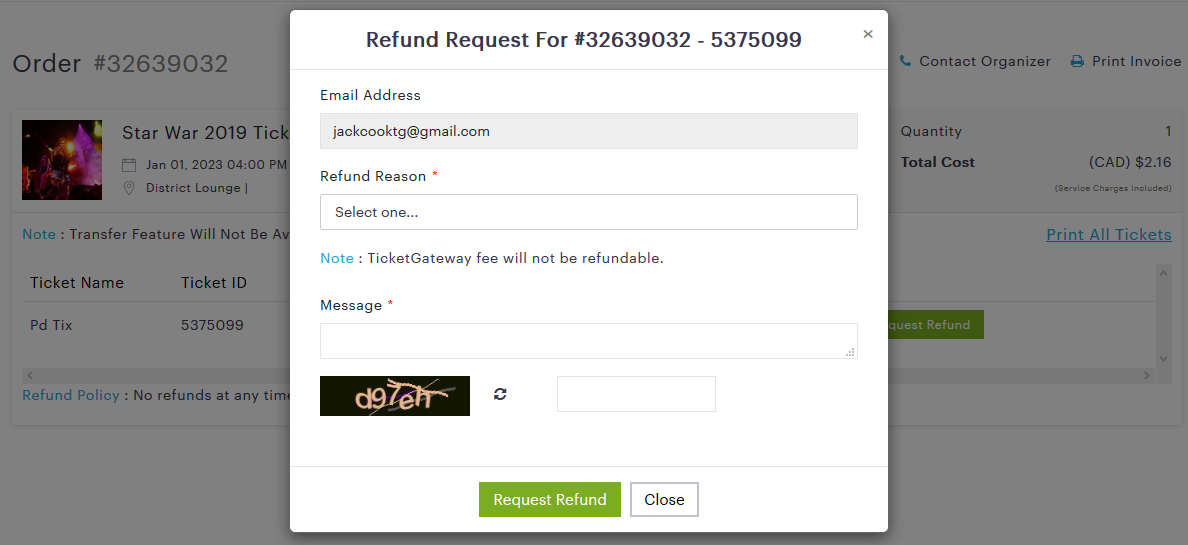 Your email address, and contact reason will already be filled in for you. Use the drop-down menu under "Refund Reason" to choose a reason for your refund, then write a short message explaining your request. Click the request refund button once every field is filled out.
TIP: We recommend including your phone number in the message to make it easier for the organizer to process your request.
NOTE: Once submitted, a refund request cannot be cancelled or reversed. Please contact us immediately to cancel your refund request
Organizers should respond to your request within 1 week, and you'll automatically receive an email from Ticketgateway once the refund has been sent.
4. Wait up to some days to see your refund once issued.
When a refund is issued, it can take up to 5 business days to show up in your account (10 - 15 business days internationally,) depending on the bank or credit card company.
If you still don't see the refund after this time, contact the organizer to confirm that they processed it.
NOTE: In rare cases, refunds can take longer to show in your account or on the card used for purchase.
Credit card companies use major banks to supply the funds they lend to cardholders to make purchases, which means that the credit card's policies as well as the bank's policies can delay the refund.
5. Optional: Contact Ticketgateway Support if the organizer hasn't responded.
If you haven't heard back from your organizer within 1 week, you can contact us. While refunds are managed solely by your event organizer, we'll do our best to connect you with them to follow up on your request.