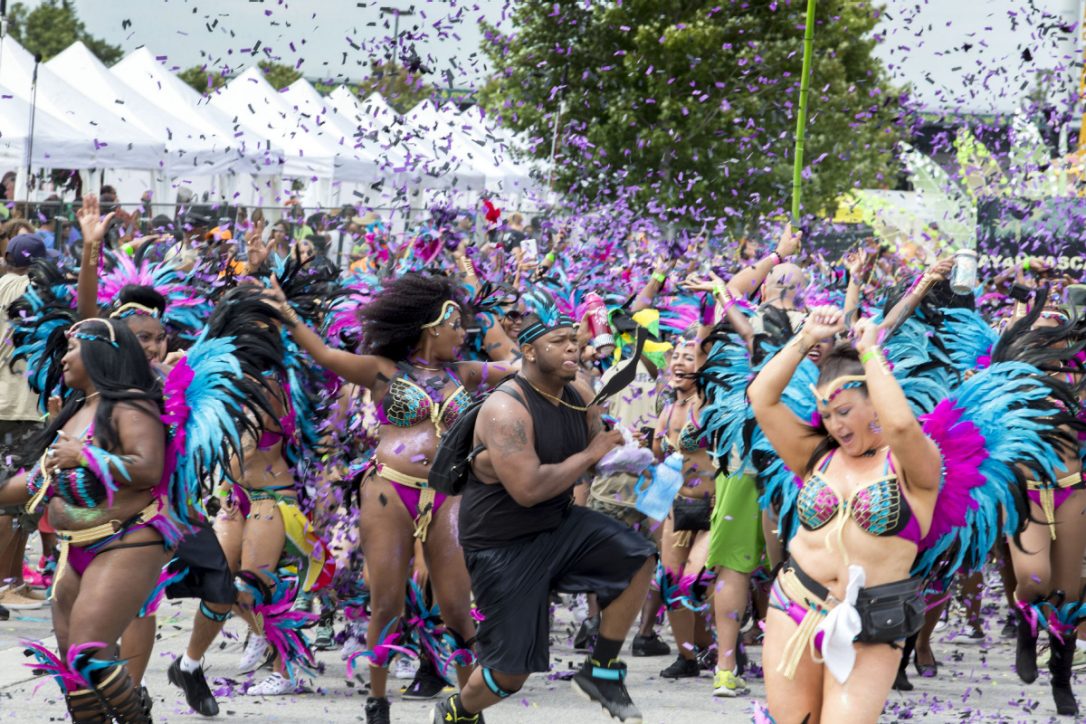 A record breaking crowd took part in the Peeks Caribbean Carnival Grand Parade on Saturday, celebrating their enthusiasm for Caribbean culture and music.
A total of 11 large Mas bands, six steel drum bands, and several guest bands participated in this year's parade. Peeks Toronto Caribbean Carnival is pleased to announce the results of the 2017 Mas band competition:
Official 2017 Mas Band Competition Results
In the category of Big Band (bands with more than 750 of members):
1. Louis Saldenah- Mas K-Club
2. Toronto Revellers
3. Carnival Nationz
In the category of Small, Medium and New Bands:
1. Tribal Carnival
2. Fantazia Carnival
3. Sunlime
"This year's presentations were particularly impressive," said head judge Marline Jones. "Congratulations to all of the mass bands who participated and made the 50th anniversary of carnival in Toronto extra special. Looking forward to seeing next year's presentations – the sky is the limit!"
"It was a team effort," said Louis Saldenah, leader of the Mas K-Club band. Saldenah has been leading his band since 1977. His band has placed first in the competition 18 times and been runner up 12 times. This year's the band's theme was 'Celebration Time.'
"We are honoured to win for the second year in a row, said Dexter Seusahai of Tribal Carnival. "The FMC did an excellent job with the route, the masqueraders were very happy and we are looking forward to competing in the big band category next year."
Tribal Carnival has been participating in the Toronto Carnival for 11 years.
Please find attached a photo of Louis Saldenah Mas-K Club and Tribal Carnival.
PHOTO CREDIT: Gerard Richardson
About Peeks Toronto Caribbean Carnival
The Peeks Toronto Caribbean Carnival is an exciting three-week cultural explosion of Caribbean music, cuisine and revelry. It is the largest cultural event in Canada and the largest outdoor festival in North America. Taking place from July 7 to August 7, 2017, this year marks the 50th anniversary of the carnival in Toronto and will feature more floats, music, celebrities and fun than ever before. The theme "Celebrating Our Heritage: From Then to Now" will infuse every aspect of the festival, from the parade route to the shows and all performers including singers, pannists and calypsonians. The city of Toronto and the Greater Toronto Area will come alive with the pulsating rhythms and melodies of Calypso, Soca, Salsa, Zouk, Reggae, Chutney, Steel Pan and Brass Bands. Carnival events will showcase originality, culture, and history to millions of spectators attending in downtown Toronto or watching on television and online. For more information the official website at www.carnival.to
Corporate sponsors/partners of this year's festival include: Title Sponsor: Peeks Social Ltd. OLG, Toronto Star, CTV, CP24, OneCaribbeanTV, Virgin Radio, the Federal Government of Canada, the Province of Ontario, the City of Toronto, Tourism Toronto, Grace Kennedy Foods, the Ontario Science Centre, Exhibition Place, Liberty Grande, Malvern Town Centre and Sunrise Restaurants.
Source : carnival.to
---
Leave a Comment!
---