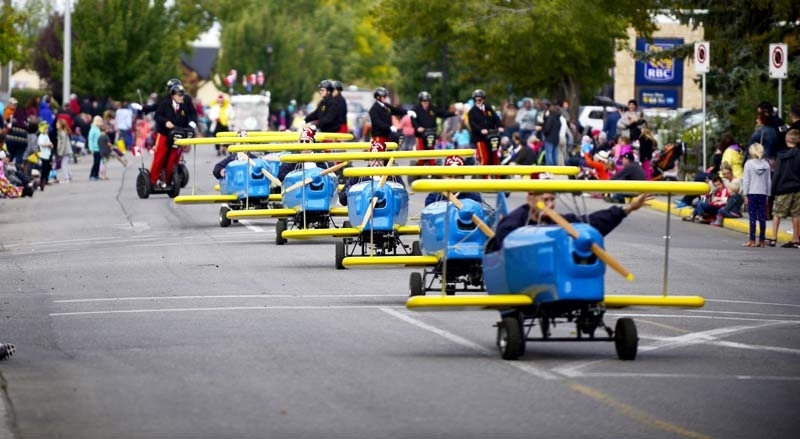 The 49th annual Cochrane Lions Labour Day Rodeo is gearing up for another successful finale to the summer ending rodeo weekend.
But Cochrane and Area Events Society (CAES) organizers are concerned that with only three weeks remaining until the Sept. 5 10:30 a.m. event, there is a significant shortage of volunteers.

"We are still looking for about 50 volunteers as of today and we really need help in getting the word out," said CAES chair Marina Chabbert, adding that float entries are only at about half of what they normally are at this time of the year.
This leaves considerable room for late entries to reach the goal of 130 floats.
Chabbert said the Cochrane RCMP will be the 2017 parade marshals.
"As we continue to celebrate Canada 150 we could not think of a better Canadian representation," said Chabbert of the local detachment.
"The RCMP is Canada's national police service and remains one of Canada's most iconic national institutions. The Mounties have a long and proud history dating back to Confederation and the opening of the Canadian West. The red serge has been representing Canada for 137 years."
The honorary parade marshals designation was not able to be confirmed by press time.
Special guests this year include the Band of the Corporal Engineers, from Chatham in Kent, England.
"We can expect a 30 to 35 member band to play their finest for Cochrane," she said, adding that the band will also play O Canada for the opening of the Labour Day Rodeo to follow.
Chabbert said this year will see some unique floats including the Kajuwiak Dance Group (a children's Polish dance group), the Cochrane Lioness Club (with kids on bikes in tow), the Mounted Mayhem Drill Team, the Four Directions Metis Dancers, Ducks Unlimited and of course – the colourful display and mini cars of the Shriners.
The Lions Labour Day Rodeo runs Sept. 3 to 5 at the Lions Rodeo Grounds, with the ranch rodeo taking place on the evening of Sept. 2. The amateur rodeo event is sanctioned by the Foothills Cowboy Association.
---
Leave a Comment!
---