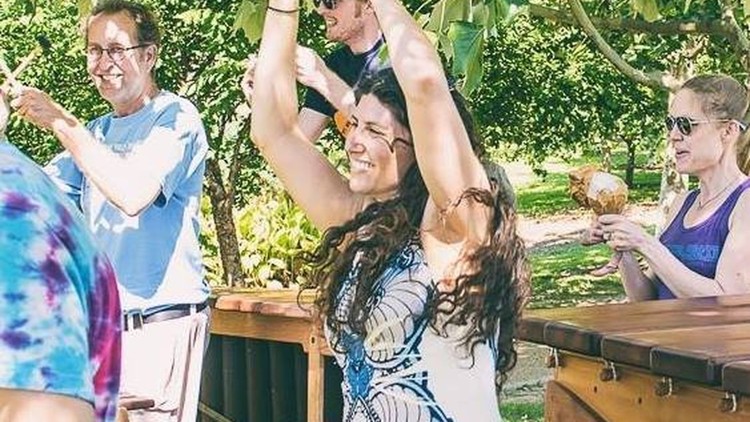 When hundreds of thousands of women marched across the country last year, it became clear that change was coming. Since then, the #MeToo and #TimesUp movements have helped expose the stories of sexual harassment and abuse endured by women around the globe.
Now, world music artists in Austin are taking their rallying cry for women's equality to the stage with an International Women's Day benefit show from 7 p.m. to midnight March 8 at the Rattletree School of Marimba (2401 Thornton Road, Unit 3). Along with the global celebration's #PressforProgress theme, the show — which will feature music from Latin America, Africa, France and the Middle East — aims to highlight the limited economic opportunities and threats of violence that women may face in Austin's music scene and in their daily lives.
According to the 2015 Austin Music Census, only 28.5 percent of local venue owners are female. Out of 2,380 musicians surveyed, 80 percent of them were male.
"Women are primed, ready and interested in change," says Leti Garza, the event's project director who also performs Pan American music. Garza is among the featured powerhouse of women behind the show.
The team of artists also features Julie Slim, a Lebanese-American multilingual jazz and world music vocalist; Brazilian singer-songwriter and keyboardist Paula Maya; and Rakefet Laviolette of the high-energy Zimbabwean-style marimba band Mafaro Marimba. Laviolette also serves as program director at the Rattletree School of Marimba.
"Putting (our) rage onto the stage transforms it into something positive through music," Slim says.
Find $10 presale tickets online at atxinternationalwomensday.brownpapertickets.com. Tickets for children ages 5 and younger cost $5.
Honoring César Chávez
Civil rights activist César Chávez was no stranger to Austin. In 1966, he arrived to lend his support to agricultural workers who marched from the Rio Grande Valley to the Texas Capitol seeking a pay raise from about 40 to 60 cents an hour to $1.25.
Chávez met the marchers, who stayed at St. Edward's University overnight, at the campus and joined them for what became a historic march — one that's often credited with giving rise to the state's Chicano movement.
On Chávez' birthday March 31, celebrations across the country will honor his life and legacy. In Austin, don't miss a free screening of the critically-acclaimed documentary "Dolores" at 7 p.m. March 29 at the Emma S. Barrientos Mexican American Cultural Center.
The documentary, directed by Peter Bratt, tells the story of Dolores Huerta, whom the filmmaker describes as "among the most important yet least-known activists in American history." Huerta co-founded the first farmworkers union with Chávez — all while raising her 11 children.
Stick around after the film for what's sure to be an insightful conversation with some of Austin's prominent community leaders including Lilia Rosas, caretaker of Resistencia Bookstore, and award-winning poet Ire'ne Lara Silva.
On March 31, Austinites can also join the annual "Sí Se Puede" community march. Check poder-texas.org for updates.
Source : mystatesman
---
Leave a Comment!
---