Seven Must Try Restaurants in San Diego To Visit
Love eating out but confused by the options available in the city? When you have too many options, zeroing in on the right one can be a daunting task. Let us help you with the top restaurants in San Diego where you can have immensely beautiful memories and a splendid time relishing food with your loved ones.
Bang Bang
This is exemplary restaurant, located at 526 Market St, San Diego, CA 92101, with an amazing ambiance. The cuisine consists of Asian fusion and few other selected cuisines from across the world. The restrooms are exceptional as they are adorned with the photographs of actor Ryan Gosling and attractive wallpapers. Great fusion dishes and combos are available at reasonable prices.
Hours: Wednesday - Thursday 5 pm - 10 pm, Friday - Saturday 5 pm - 2 am, Sunday 5 pm -10 pm
Lucha Libre Tacos
Love Mexican dishes? Try out the wonderful delicacies available on the platter at Lucha Libre Tacos. The amazing restaurant is located at 1810 W Washinton St, San Diego and also at 3016 University Ave at San Diego. Both the locations have different timings while the ambiance and service are impeccable in both the places. The theme of the restaurant is Mexican Wrestling. The ambiance is sure to excite you and get you excited.
One Door North
You'd love to taste the best of American cuisine including truffle fries and baby back ribs at this amazing restaurant that has wonderful vibes. There are themes based on safari tents and lanterns on the table. The ambiance is earthy and realistic and the service and food is impeccable. It is located at 3422 30th St, San Diego, CA 92104.
Hours: Monday - Thursday 4 pm - 9:30 pm, Friday 4 pm-midnight, Saturday 10 am-midnight, Sunday 10 am - 9 pm.
Trailer Park After Dark
Taste the best flavors in American cuisine and have beer and amazing range of snacks to try out. There is trendy and park themed décor that will keep immersed in the experience. The restaurant is located at 835 Fifth Ave Lower Level Conference Room, San Diego, CA 92101.
Hours: Wednesday - Saturday from 5 pm to 2 am
The Smoking Goat Restaurant
French- American cuisine is extremely popular among the youngsters and older generation alike. There are popular ranges of delicacies that one can try and relish with friends and loved ones. The restaurant is located at 3408 30th St, San Diego, CA 92104.
Hours- Sunday - Thursday 5 pm - 9 pm, Friday - Saturday 5 pm - 10 pm
Juniper and Ivy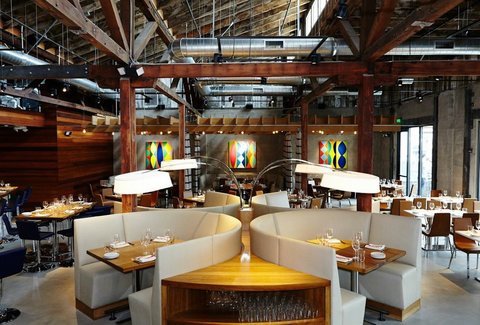 This restaurant has a lovely ambiance with a scintillating touch of modernity and romance. This place is highly popular for it's romantic dinners in Little Italy. In addition, one gets to bask in the ambiance of the lovely trendy interiors. The restaurant is located at 2228 Kettner Blvd, San Diego, CA 92101.
Hours: Monday - Thursday 4 pm - 10 pm, Friday - Saturday 4 pm - 11 pm, Sunday 4 pm - 10 pm